Los Cristianos Beach - Adapted wheelchair service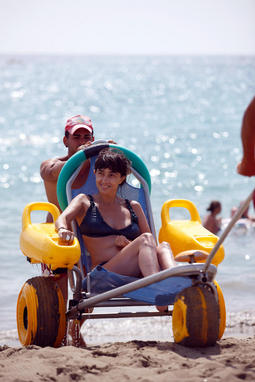 Ampliar imagen
Playa de Los Cristianos inaugurates the Adapted Bathing Wheelchair Service.
Arona Town Hall's Tourist Board presents the new accompanied sea bathing service for impaired mobility individuals.
This initiative is part of the Beach for Everyone project, thanks to which all the beaches in the municipality are gradually being equipped with accessible installations and services.
The company selected to provide this accompanied bathing service is Formas Nivaria. Highly trained staff will be offering the accompanied bathing service on a daily basis (from Mondays to Sundays) with timetable from 10:00 to 17:00.
These professionals are equipped with technical aid (amphibious wheelchairs and crutches) allowing them to ensure safe and comfortable sea accessibility for users. The booking system is divided into two. Individual bookings can be made directly (the same day) in the accessible beach area, whereas group bookings should be made (48 hours in advance) by telephone calling 636 672 739 or by E-mail to arona@formasnivaria.es
Aimed at guaranteeing quality service for all bathers, Playa de Los Cristianos is equipped with every infrastructure necessary to ensure accessibility and enjoyment of the sea for all: reserved parking lots, access ramps, adapted toilets, accessible shower, fixed and removable walkways, rest areas (solarium) and area with sunshades.
This beach adapted bathing service is intended to satisfy the needs of those tourists with impaired mobility from all over Europe who choose Playa de Los Cristianos for its barrier-free installations and its mild all-year round climate.
The Arona Town Hall's commitment to ensuring every tourist's quality of life, in particular those with disabilities, goes back to the year 1957, when a group of Swedish tourists suffering from various diseases such as multiple sclerosis, rheumatism and polio arrived in Playa de Los Cristianos looking for a place to rest and recover from their illnesses.
They are the ones who discovered the sun's healing powers and who taught us to appreciate and exploit the natural wealth that belonged and still belongs to us today. For those first visitors, thanks to the climatotherapy and hydrotherapy (sun, sand and sea bathing), Playa de Los Cristianos offered them the hope of finding a relief for their illness, and to a certain extent gave them the opportunity to return to life.
This service aims to foster ''going back to our roots'', reinstating Playa de Los Cristianos, the municipality's only natural sandy beach, the importance it historically has had as a place which is perfect for recovering, with an exceptional climate that guarantees quality of life.
The goal of the Beach for Everyone project is to offer a service with a major social impact that satisfies the sea bathing needs of a large number of users in Playa de Los Cristianos, the most visited tourist destination in Europe by tourists with impaired mobility and the second one worldwide.
Last updated: Tuesday, April 12, 2005