Las Vistas Beach - Adapted wheelchair service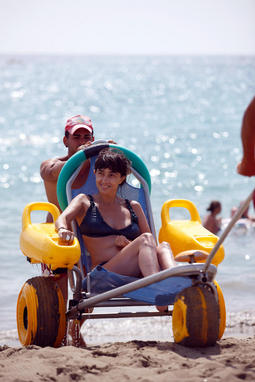 Ampliar imagen
Playa de LasVistas inaugurates the Adapted Bathing Wheelchair Service.
The Playa de Las Vistas offers the sea accompaniment service to people with reduced mobility, and it is provided from 11:00 to 17:00 on a daily basis (January, February, March, April, May, June, October, November and December) and schedule 11 a.m to 7 p.m hours ( July, August and September), on a daily basis (Monday to Sunday) and of charge all year round.
This initiative comes under the Municipal Accessibility Plan, which is enabling the gradual provision of accessible facilities and services for all beaches in the municipality.
The lifeguard team who offer the service have wide experience in attending to people with reduced mobility. The assisted bathing service is provided in the Playa de Las Vistas, being one of the best accessible beaches in the whole of Spain.
The assisted bathing service boasts technical aid (amphibious chairs and crutches) which allows users to access the sea in a comfortable and safe manner.
With the aim of guaranteeing quality to all bathers, the Playa de Las Vistas boasts all necessary infrastructure to guarantee access and enjoyment of the sea to all: reserved parking spaces, access ramps, adapted toilets, accessible showers, fixed and rollup walkways, rest platform (solarium) and shadow area.
The Playa de Las Vistas adapted bathing service aims to satisfy the demand of tourists with reduced mobility originating from the whole of Europe, who choose the Playa de Las Vistas for its facilities without barriers and for its good year round climate.
The commitment by the Town Hall of Arona to guarantee quality of life for all tourists, especially those with disabilities, is due to the arrival in 1957 of a group of Swedish tourists at the Playa de Los Cristianos who suffered from different neurological and rheumatological diseases and rheumatism who were looking for a place to rest and recover from their pains.
They discovered the healing power of the sun and showed us how to appreciate and make the most of the natural riches that were and are ours. The Playa de Los Cristianos meant, for those first visitors, thanks to climatherapy and hydrotherapy (bathing in the sun, sand and sea), the hope of finding relief from their conditions. In a way, it allowed them to live again.
The purpose of the Plan de Playas para Todos (Beaches for All Plan) is to offer a service of great social benefit and to satisfy the needs of bathing in the sea of a large number of users in the Playa de Las Vistas, with this enclave of Arona being the most visited tourist destination in Europe by tourists with reduced mobility, and the second in the world.
Last updated: Wednesday, June 7, 2006